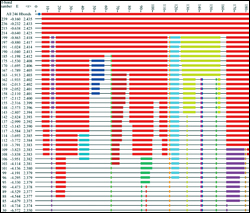 MSU ProFlex (formerly called FIRST) is a patented computational tool for identifying rigid and flexible regions in protein structures and protein-ligand complexes. Analysis of a single, static three-dimensional protein structure can capture the essential conformational flexibility of the protein.
Hydrogen bonds, salt bridges and hydrophobic contacts are identified by geometric and energetic criteria once polar hydrogens have been placed using an external program (such as What If). Using a constraint counting algorithm, all-atom calculations on proteins of over 1000 residues can be completed within seconds.
This software is available as source code and has been applied to many proteins and their complexes (see publications below).
An updated version (v5.0) of the manual will be available shortly. Meanwhile, version 4.0 of the manual can be downloaded by clicking the link below. Note that the background on ProFlex in this manual will be useful, but many of the aspects of running the software, including output file formats and visualization, have changed. For details of running the code, please refer to the Quick Guide (for v. 5.1) distributed with the software (and also made available for download below).
Please note, you will need Adobe Acrobat Reader to view these pdf files. You can download a free copy of Acrobat Reader from here.
ProFlex is now available for licensing to academic and commercial researchers. To arrange a license or for scientific inquiries, please contact:

Leslie Kuhn
502C Biochemistry Building
MSU, East Lansing, MI 48824

Telephone: (517) 353-8745
E-mail: kuhnlab@msu.edu

Commercial License Agreement

Academic License Agreement - GNU/GPL
ProFlex can be downloaded from github.com/psa-lab/proflex

Version 5.1 – Latest Release : January 2009.
ProFlex version 5.1 includes the implementation of a new rainbow color scheme for showing flexibility index results in PyMol. Please click here for a detailed list of changes made to the code for versions 5.0 and 5.1.
Version 5.0 – Released : June 2008.
ProFlex version, 5.0, included significant enhancements over the previous release of ProFlex.
Version 4.0 – Initial Release : Mar 2004.
Version 4.0 was the first public source code release of ProFlex.